WELCOME to our LAB!
News
HFA meeting 2015 - "Les Diablerets"
From Right to the left:

Daniel (Lausanne)

Samir (Lausanne)

Enrico (Turin)

Rudi (Lausanne)

C.P. Chang (Indianapolis)

Samir, Rudi and Daniel recently presented a poster on their works in Les Diablerets (Switzerland) at the Heart Failure Association Winter Meating.
Rudi was selected to give a presentation on:
- Cardiac fibroblast-specific long non-coding RNAs modulate expression of pro-fibrotic genes both in vitro and in vivo.
Dan presented his poster on:
- Notch-Dependent Expression of Long Noncoding RNAs Regulates Cardiogenic Differentiation in Embryonic Stem Cells.
Samir and Rudi were also selected for the Young Investigator Award ans Samir won the FIRST prize on:
- CARMEN, a super enhancer-associated lncRNA controlling cardiac specification, differentiation and homeostasis.
Great Job SAMIR !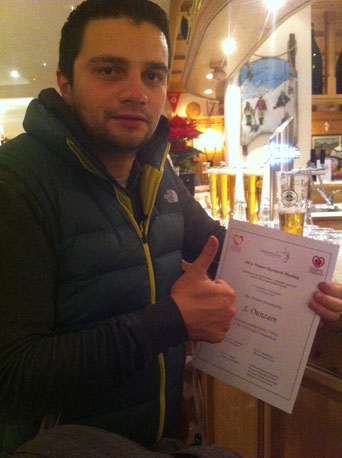 ESC Congress 2014 - Barcelona
Samir, Rudi and Michael recently presented their works in Barcelona at the European Sociaty of Cardiology meeting.
Iole's Phd
Congratulations Dott. Iole Pezzuto for successfully completing your education and most importantly along with degree of PhD!
Tweets
Loading Twitter messages...